2020 CMN Champion Addie Jackson
Life at a Children's Hospital
62 children enter a Children's Miracle Network Hospital for treatment every minute. Whether they suffer from common childhood illnesses like asthma and broken bones, or fight bigger challenges like premature birth or chronic diseases, Children's Miracle Network Hospitals provide comfort, treatment and hope to millions of sick kids. In fact, Children's Miracle Network Hospitals treat one in 10 children in North America each year.
At Piedmont Columbus Regional, families put their trust in us to treat thousands of children each year. Whether through our Pediatric Emergency Room or our Miracle NICU, we are ready to help families face any challenge that may arise.
Each year, we select one child and their family to serve as Champions to be ambassadors in and around Columbus for our Children's Hospital and Children's Miracle Network. As Champions, they share their story with the community to bring to life the statistics we often see on paper. This year, we are proud to present Addie Jackson as our 2020 CMN Champion.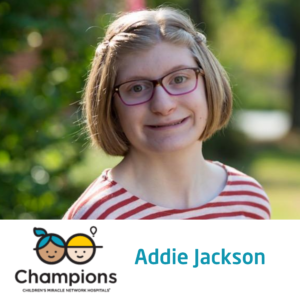 Addie's Story
When Addie was six years old she became extremely ill and was diagnosed with Mitochondrial Disease. For Addie her energy production is diminished, so she tends to crash each day when she runs out of energy. It is also very dangerous when Addie gets sick, even for something as simple as a common cold. Her cells have a harder time recovering from illness, which can lead to complications. When this occurs it can cause a "Mito Crash," which can result in Addie spending up to a week at a time in The Children's Hospital at Piedmont Columbus Regional, your local Children's Miracle Network hospital. Addie was diagnosed with another condition called KBG Syndrome. The rarest of rare diseases (only 300 cases documented worldwide). KBG Syndrome is a genetic disease that is the result of a mutation in one of Addie's genes.
Thank you to the Jackson family for sharing their story with us! We look forward to being able to share their journey with our community throughout 2020. Visit us on Facebook to watch Addie's journey this year.