Virtual Children's Hospitals Spirit Week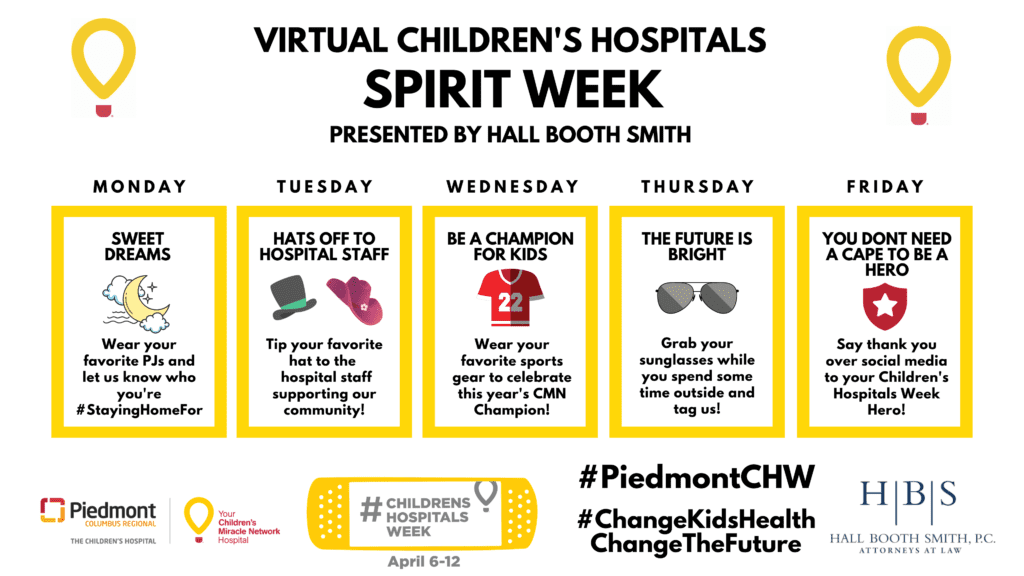 In other years, Children's Hospital Week has been a time to gather together and celebrate our corporate partners, programs, miracle families and hospital staff. In light of the current COVID-19 situation, we want to celebrate our community with a virtual spirit week! Our hope is that this will unite us all and bring joy and awareness to our community about Children's Hospitals. Many children will still be ill or injured during this time and need access to uncompromised healthcare.
You can follow along at home and tag us with the hashtags #PiedmontCHW and #ChangeKidsHealthChangeTheFuture. We want to show our hospital staff and pediatric patients all of the love and support their community feels for them!
Themes for the virtual Children's Hospitals Week:
– Monday 4/6/2020: PJ's for Sweet Dreams
– Tuesday 4/7/2020: Hat's off to Hospital Staff
– Wednesday 4/8/2020: Gameday sports gear to be a champion for kids
– Thursday 4/9/2020: Sunglasses for a bright future
– Friday 4/10/2020: Thank a healthcare hero via social media
On Wednesday, we will also be announcing our 2020 CMN Champion with a virtual ceremony.
Children's Hospitals Week Activities at Piedmont Columbus Regional
Our clinical staff also have a week of fun planned to bring joy to our youngest patients during these hard times, so follow us on Facebook to see what is going on at the hospital! Hospital staff will be dressing up to bring a smile to patients' faces including tacky day, a throwback day, and a Disney day. It's never easy to be a scared kid at the hospital, so we are working even harder during these times to make it a good experience.
How You Can Help
If you would like to donate to our efforts to prepare and protect our community please visit: https://www.piedmont.org/locations/piedmont-columbus/foundation-columbus/donate
To find out more about how you can get involved, please email pcr_foundation@piedmont.org. We are accepting homemade masks and donations of food for clinical staff.
Follow us on Facebook by clicking here.